The Oscars are my Super Bowl. Hands down, the annual live broadcast of the Academy Awards is the television event I await most eagerly each year. More than the season premier of Game of Thrones, more than the Olympics or a new season of The Bachelor. So try to imagine my disappointment when I discovered, less than an hour before the show was set to start, that streaming ability was limited to certain cities, and none of them were in Minnesota. After frantically trying the login information of five different cable providers (thanks, Facebook friends!), and failing, I admitted defeated and instead watched The Departed (my second favorite film of all time, after Star Wars).
Luckily, the next day I was able to watch the entire thing on my laptop, sans commercials. Here are my outtakes on some of the shows biggest elements.
The Host
I may be in the minority here, but I enjoyed Jimmy Kimmel. He seems like that snarky uncle who'd join you for a smoke behind the shed during a particularly fraught Thanksgiving. Is he the greatest comedian of all time, or the most entertaining performer? No, but that's not what the Oscars are about. For those of us who actually sit through three plus hours of an awards show, it probably means we're there for the movies, as in, we don't need a stand up comedy routine. In my opinion, a good host is one who keeps the attention on the show itself, and is ready with some improvised one-liners to comment on what's happening in real-time. Kimmel brought along some of the best bits from his late night show, including Celebrity Mean Tweets, his sidekick Guillermo, and his feud with Matt Damon. He didn't don a leotard, resort to overly crude or cruel humor, and wisely left the singing and dancing to Justin Timberlake.
The Fashion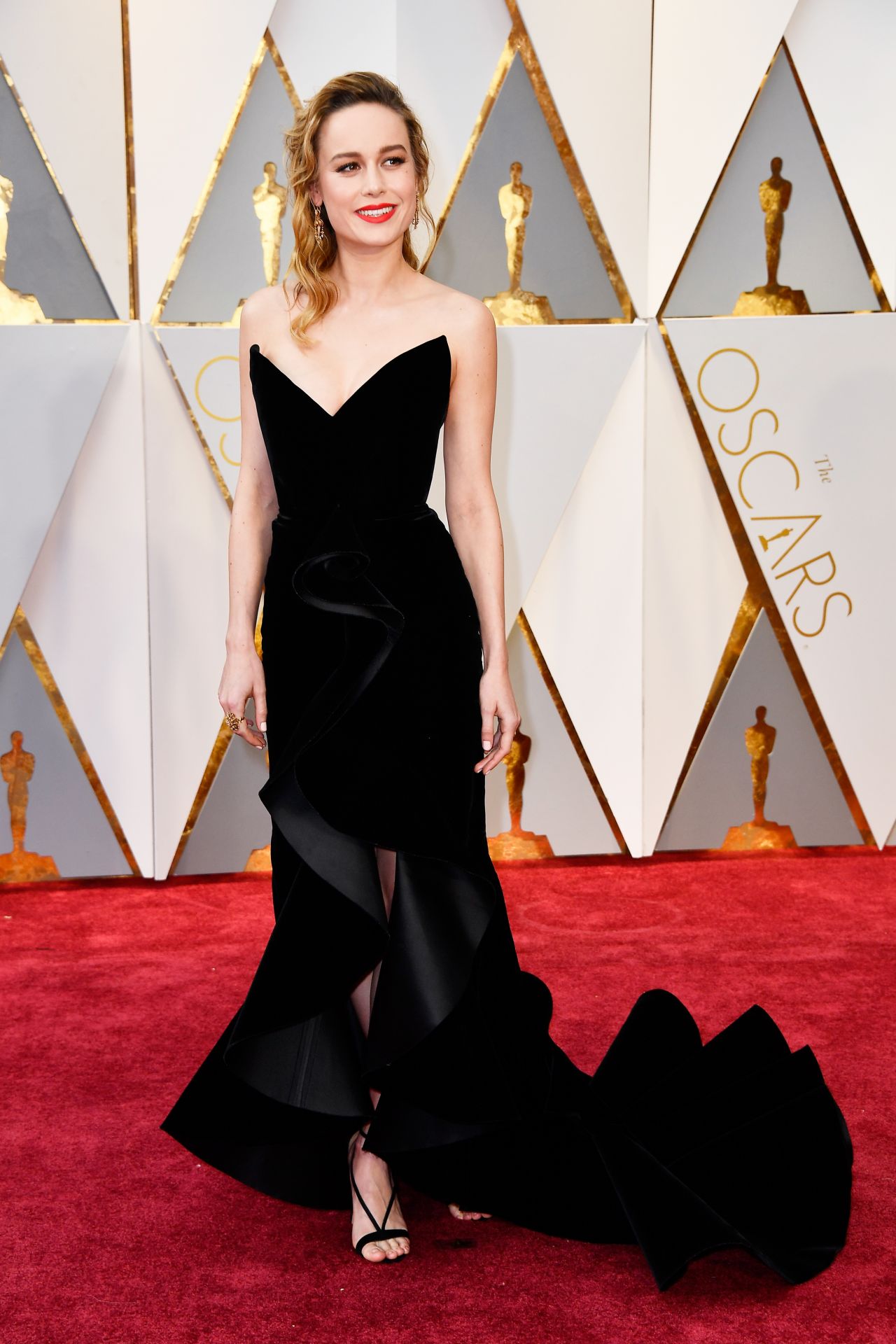 One of my favorite parts about the Oscars (or really any awards show) is the fashion. A few years ago, I remember being thoroughly disappointed when it seemed like 90% of the women were wearing feathery gowns in neutral tones. Honestly, who wants to attend the most glamorous event of their lifetime wearing beige?! Luckily, this year there were some fantastic, unexpected gowns, and even a few surprises from the men. Two of my favorite looks came from Kirsten Dunst and last year's Best Actress winner Brie Larson, who both wore vampy black. The silhouettes of their dresses kept the basic black from being boring, and both looked effortlessly sophisticated and sexy despite being fairly covered up. Emma Stone, who took home the Best Actress award this year, proved that pale people can wear pale colors and not look like a soda cracker. Her light gold, lace and fringe number was reminiscent of something her La La Land character would wear, and matched excellently with her statue. She topped of the look with impeccable, Old Hollywood style hair and makeup, and appropriately brought one of the best looks of the night. Busy Phillips (who repeatedly and adorably
attends awards shows with BFF Michelle Williams) was a standout in an hourglass shaped black and emerald velvet gown with sheer panels. Jessica Biel, not to be outdone by her more famous husband Timberlake, looked like an Egyptian queen in a long-sleeved, sparkly gold gown with feather neckpiece. Taraji P. Henson absolutely slayed in a navy velvet, off-the-shoulder, curve-hugging gown with a high slit (a look that prompted Chance the Rapper to tweet "Taraji you a fox"). But my favorite two female looks of the night belonged to comedian Leslie Mann and Best Actress nominee Ruth Negga. Mann wore a voluminous, canary yellow gown that fit her effervescent personality to a T. And Ruth Negga, a
relative newcomer to the red carpet scene, dared to cover up, when most women show a significant amount of bare skin. Her fire-engine red, lace and chiffon Valentino was both long-sleeved and high-necked, and she topped the look off with a gold and burgundy crown woven into her updo.
As for the men, they pretty much all stuck to tuxes (and blessedly so), but three men in particular managed to stand out. Dev Patel, the star of Lion who is every inch a man now, wore white on white with black pants, and his flowing hair looked as well-conditioned as ever. Mahershala Ali, who ended up taking home the Best Supporting Actor award for Moonlight, wore head to toe black and looked heart-stoppingly handsome (I'm betting a lot more people will know how to pronounce his name in the near future). And Riz Ahmed, who's really having his moment right now (Rogue One, GIRLS, The O.A., and The Night Of) was the male standout of the night in a deep blue tux (I must admit, he made such an impression on my very impressionable heart that I dreamed I was skiing with him that night.)
The Winners/Losers
By now, everyone who hasn't been living under a rock knows about the confusing Best Picture announcement. A very puzzled-looking Warren Beatty announced La La Land as the winner, but a few seconds into their acceptance speech, the producers were subtly informed that Moonlight had actually won. This royally sucked for the crews of both films, La La Land because they had their triumphant victory revoked after mere minutes of enjoyment, and Moonlight because they were robbed of the full glory of their moment. Fortunately, both sets of people were incredibly gracious, and the night seemed to end happily, albeit in confusion. Personally, I was frustrated throughout the awards seasons by the conversations that seemed to pit these two films against each other politically. They each set out to achieve drastically different things, and both succeeded admirably. Comparing the two is not just
like comparing apples to oranges, but pizza to cats. I thoroughly enjoyed both films, thought they were each extraordinary feats of filmmaking, and would've been happy to see either win.
Other notable wins were Damien Chezelle for Best Director of La La Land, which makes him the youngest winner in that category (here's where I really started to reexamine my life choices—he's 32 and just won AN OSCAR, and I'm 29 and still have a sticker chart to remind myself to eat fruits and vegetables). Casey Affleck won Best Actor (over Denzel Washington, the other front-runner) for Manchester By the Sea, which was met with a lot of backlash online in the days that followed. In 2010, Affleck was sued for sexual misconduct by two of his former co-workers (both lawsuits were settled out of court). His win re-opened the conversation that has previously surrounded other famous men, including directors Woody Allen and Roman Polanski, about whether or not the public should—ethically—consume and award the work of men accused of abhorrent acts. Viola Davis, who won Best Supporting Actress, gave the best speech of the night, when she said that she acts in order to tell the untold stories of those who've died, to "celebrate what it means to live a life."
The Best Bits
As for the elements of the show that didn't have to do directly with the films themselves, I'd say my favorite part was the segment
where Kimmel paraded the unwitting passengers from a tour bus into the theater. Kimmel admitted he'd been planning the prank for months, but didn't received official permission until days before the show. The producers' fear was that—any time you bring regular, un-prepped people on live TV—there's a lot of potential for things to go horribly wrong. There was no guarantee that when Regular Joe found himself feet from the likes of Ben Affleck and Mel Gibson, and at the Oscar's no less, he wouldn't completely lose it. Fortunately, the gimmick went off without a hitch, and there was no fainting, vomiting, crying, or F-bombs in sight. It was sheer delight watching Gary from Chicago, utterly dumbstruck, as he filmed the whole thing from his cell phone, or his fiancé squeal with delight when Jennifer Aniston gave her her sunglasses.
All in all, I'd give this ceremony an 8.5 out of 10. There were heartfelt speeches, strong musical numbers, multiple first time nominees, and more than a few surprises. The tourists echoed exactly how the Oscar's make me feel each year—in awe of the glam, giddy at the movie stars, and a little bit blinded by all that movie magic.
Rachel Woldum is a former television snob who has embraced the medium as it has entered its Golden Age. Contact her at editor@southernminnscene.com