As we passed International Women's Day (also the day of the Women's March) along with Women's History Month it seemed like a good time to highlight amazing women we are hashtag blessed to have here in our great state. These women are not only ridiculously talented across a variety of genres, they also inspire women to be comfortable in their own skin, to take no shit, to stand up and be heard when it counts and especially for those who cannot do it themselves. The best and the worst thing about this list, is it could've been much longer.
​CHANNY LEANEAGH
 Lead singer of the band Poliça (and former member of the now defunct Roma di Luna). Polica has never shied away from being political and Channy in particular has never shushed her distaste for everyday sexism. She exudes a quiet fierceness and unwavering resolute to stand up for what counts whether that's women's rights or Black Lives Matter.
Badge of Badassery - Poliça's second album, Shulamith was named after the late feminist writer, Shulamith Firestone. Firestone was known as a radical feminist who published a book titled The Dialectic of Sex - the case for the feminist revolution.
Lady Anthem - Let's get this straight, many of Poliça's songs cover the double standards and crimes against women (in their work, in relationships, in society) and even though this song isn't theirs/hers, Channy's cover of "You Don't Own Me" live is to see a woman on fire, breathing new life into an old tune. She gives it 21st century conviction that goes beyond asserting independence from a lover.
DESSA
The only female member of an all male rap crew (and arguably their most popular member) Dessa wears many hats. She's a
writer, rapper, poet, philosopher and community giver-backer. As a graduate of Minneapolis' South High School she is constantly looking for ways to give back to the community by being active in the schools. She even worked with a school group to help them perform songs she wrote for a choral arrangement.
Badge of Badassery - Recently she had one of her essays published in the New York Times. The essay is a part of a collection that will come to fruition as a book. Dessa regularly "tries out" snippets of her writing on her Facebook page, subjecting her drafts to the commentary of the masses, something even the bravest of writers would never do. On social media she shares her successes as well as her failures, giving her fans a clear picture of what it means to be tenacious as an artist, and that failure is inevitable on your way to the top regardless of talent level.
Lady Anthem - "Dixon's Girl", the song that most people know her for, the one with the irresistibly sexy intro, the story of woman whose shining star is continually drowned out by an male partner. Dessa narrates her story as an outsider pulling for the woman to break free with the line of "it's not much, but my money's on you."
LIZZO
​Rapper and former member of now defunct bands The Chalice and GRRRL PRTY, Lizzo has struck gold as a solo artist. Now signed to a major label deal with Atlantic she has been making all the superstar rounds, talk shows, big ticket festivals and more.
Badge of Badassery - Lizzo has won hearts and minds with her consistent message of body positivity and self-love. She's a fearless warrior on the front lines against beauty standards, turning heads with her confidence and self-assurance.
Lady Anthem - "Good as Hell", I've said it before in this very column. This song should've been the song of the summer in 2016. Its throwback dance vibe over modern supergirl lyrics is mood enhancer. It'll make any woman, any person really, feel ready to tackle all of life's obstacles.
GAELYNN LEA
Winner of NPR's 2016 Tiny Desk Contest, Gaelynn Lea is a Duluth native who found a way to overcome her brittle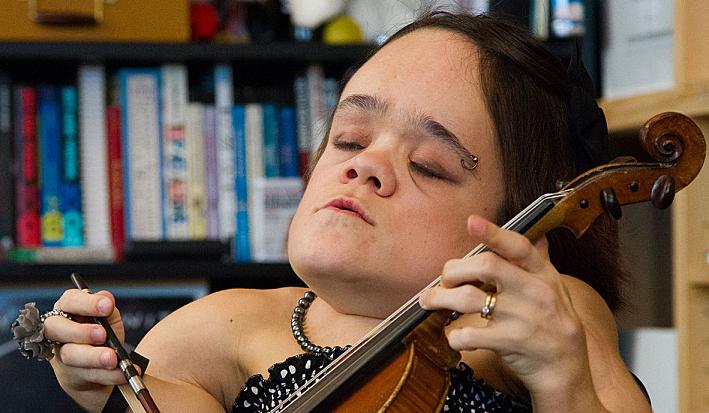 bone disease by playing violin in the style of a cello. She's an incredibly unique performer who sings heartfelt folk melodies, sometimes solo, sometimes as a duo called Murder of Crows with Low's Alan Sparhawk.
Badge of Badassery - Gaelynn is an advocate for people with disabilities by sharing her own experience and doing what she can to create social change, helping people to live a normal life.
Lady Anthem - "Someday We'll Linger in the Sun" - not so much a lady anthem as it is a heartbreaker. This is Gaelynn's most notable tune, a somber, gorgeous lament, framed by her violin, it is a must listen.
SHANNON BLOWTORCH
 Also former member of GRRL PRTY, Shannon Blowtorch is a rarity of her kind. Female DJs are far and few between but Blowtorch breaks the mold by being a mainstay in the Twin Cities Music scene. She regularly backs artists, provides a set change soundtracks and revs up First Avenue dance nights.
Badge of Badassery - Shannon is renaissance woman of the dance floor, not only is she a DJ, but she's a sound engineer, promoter and party-putter-onner (you know what I mean). She's been voted best DJ in the Twin Cities and makes her art versatile dependent on the location and occasion. She is basically a modern day Jill of all trades, musically speaking.
Lady Anthem - Shannon may not have an original Lady Anthem, but she regularly plays all female artist DJ sets, because Girl Power, duh.
Now Playing
Valerie June - It's been four years since Valerie's debut album Breakin Against a Stone and she's finally back with new music. The Order of Time is more of what you love about her, the sweet tea twang, the front porch charm and that sepia toned sound. If you weren't hooked the first time around, you will be now.
Wrabel - Buoyed by landing his song "Ten Feet Tall" in a Super Bowl commercial, Wrabel found a national stage before he was fully ready for it. Nevertheless, his Coldplay-esque sound and addicting jam "11 Blocks" are just the earworms we've been waiting for.
Go See
​Soundset - Sunday, May 28 at the State Fairgrounds. Two words. One woman. LAURYN HILL. This year Soundset really outdid itself. Because in addition to Ms. Hill, they loaded on with T.I, Gucci Mane and Travis Scott, not to mention Atmosphere (of course), P.O.S, Brother Ali and the ever elusive TheStand4rd (featuring Corbin, aka Spooky Black). Get there. It's going to be an epic day of hip hop.
Lucinda Williams - April 28 First Ave Mainroom, for a cool $35 (+ fees) you can see this legendary woman performing her album Sweet Old World in the very spot where she got married. Lucinda never disappoints. Do not miss this chance to see her in a small setting
The xx - April 28, Palace Theater in St Paul. Ok so this show is sold out already but if you know a guy who knows a guy who can get you in, take advantage of that!
This Happened
R.I.P - We lost another great one on March 17 in the form of the incomparable Chuck Berry, founding father of rock n roll. He was 90 years young. His influence stretched far and wide and continues to widen. 
Sarah Osterbauer is a die-hard music lover. When she does her budget each month, food comes after concert tickets. Find her on twitter @SarahOwrites.