You know when you are feeling down, so you turn on the song you listened to growing up that either helped your emotional state, or made it exceedingly worse? We have all done it. You have a couple tears in your eyes, so you turn on Etta James because balling your eyes out will make you feel better. It is basically self-torture. Similar to wearing shoes that hurt so bad, you might as well put a flame to your feet.
A lot of people consider those songs of their childhood. I looked back, and the songs I consider part of my life are there for fairly unusual reasons. The sounds of my childhood aren't correlated with lonely nights in my bedroom, crying for being dumped at the age of 12. The songs I have considered staples have no poignant experience behind them, no spiritual revelation. If anything, the thoughts surrounding them are at best, hysterical.
So here I share the Top 10 songs of my adolescence with the best explanation possible as to why I have dubbed them as such.
10. MMMBop – Hanson
Obviously. I don't know a soul who grew up in the 90s that didn't jam to this. Maybe not jam—head bobble? However, my connection to it is that my older sister had gotten mistaken for one of the Hanson brothers on multiple occasions—the youngest one.
9. Ghetto Supastar – Pras, featuring Mya & Ol' Dirty Bastard
Because when you are a seven year old white girl living in southern Oregon, you are a ghetto superstar.
8. Kryptonite – 3 Doors Down
This is because when I actually listened to the radio, I would do those "be the first caller" things all of the time. And I would win, every single time. In this instance, you would have to be the eighth caller to name the 10 songs and artists in order. I think I won a 3 Doors Down CD, a water bottle and a T-shirt. I wore that T-shirt for days and it was gross. The next time I played, I won my older sister tickets to her first Warped Tour.
7. Blue (Da Ba Dee) – Eiffel 65
The second Tuesday of every month was Fort Vannoy Roller Rink Night. Everyone at the elementary school would get discounted rates to the rink, and if you didn't go, you were basically left out of everything for two days. This is where I first heard the song, became obsessed with it, tried to perform it at a talent show and that was the end of my reputation. My reputation that consisted of refusing to eat lunch, trying to escape the school grounds and reading Little House on the Prairie. I guess I didn't have too much at stake there.
6. Send Me On My Way – Rusted Root
"Mamasaydobeddyalong." I have no idea what they are saying and not the slightest clue of what the music video is about. I just loved the movie "Matilda." After some research, it sounds like the writer didn't either. The lyrics weren't supposed to make rational sense, whatsoever.
5. I Ran – Flock of Seagulls
My mother would drive me all around town at night listening to some mixed tapes she put together. She would create compilations specifically for our adventures in the green Plymouth mini van with the "new car scent" air freshener. This song particularly stands out in my memory. We had some great times in that van.
4. Testify - Rage Against the Machine
I was taught about politics and all of the things that destroy this Earth at an early age. I got angry about it and started listening to Rage Against the Machine. The result? I got even angrier.
3. No Rain – Blind Melon
After the angry Rage stage, I drifted into the nonviolent bumblebee stage. Though I abstained from hallucinogens and dancing in the prairie grass, I did find a lot of comfort in this tune and will continue to turn the volume up until it hurts.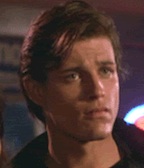 2. On the Dark Side – Eddie & the Cruisers Soundtrack
The beautiful fellow who starred in "Eddie and the Cruisers" stole my heart. His silky hair, black T-shirt and dirty jeans ripped out my little pre-teen heart. I would imagine myself singing this song with him. Hubba hubaa.
1. Put the Lime in the Coconut – Harry Nilsson
Err, a couple friends of mine stole some bowling shoes. We wore those bowling shoes out into the woods late on a Saturday night. In Minnesota, there are mosquitos. In Oregon, there are mountain lions. We scared ourselves into thinking that there was a mountain lion afoot and when we tried to run, there was no traction on the shoes. Panic struck, and when we finally made it back to the house, we turned this song on. Once it was on, I performed some sort of celebratory interpretive dance. SoMinn, you are lucky I shared that one with you.
These aren't my favorite songs by any means. They just hold memories during the adolescent stage of my life. You know, the phase of acne, awkwardness and discomfort. Most adolescents are in a complete frenzy, yet we still reminisce about those years. Remember Furbies?
I was staying up late with my mom, protesting the commercial meat industry and partaking in awful activities with my friends. It was a good time.
Autumn Van Ravenhorst is a staff writer and columnist for SouthernMinn Scene. If you live in the Owatonna area, she'd also be happy to sell you an ad in this wonderful magazine. Drop her a line at AVanRavenhorst@owatonna.com