Much Ado About Nothing opens at the Little Theatre of Owatonna on Friday night
The Northfield Arts Guild brings us their production of The Miracle Worker this weekend
Two Minnesota master musicians, Peter Ostroushko and Dean Magraw, are performing at the Oak Center General Store on Saturday night
Hey SoMinn.
Um, whoops.
It hasn't been a great week for your favorite publisher and editor.
Remember how last week we told you all about the Ibsen Festival in Lanesboro? How this was the last installment after twenty years of celebrating Norway's greatest writer? We told you that there would be lectures and exhibits, and that the centerpiece of Ibsen Fest is the premier of Commonweal Theater's production of When We Dead Awake, adapted by Jeffrey Hatcher?
Well, all of that is true. We just gave you the wrong weekend.
So if you thought you missed it because you were too busy, rejoice! Ibsen fest wasn't last weekend. It's this weekend!
I made a terrible mistake by getting the dates mixed up, and I sincerely apologize for that. We tried to get it out over social media as much as we could that we'd messed up. If anyone went to Lanesboro last weekend because we told you to, then I'm truly sorry.
So, that's the bad news. The good news is you can still go this weekend and see all the amazing Henrik Ibsen related programs and exhibits. When We Dead Awaken did open in previews last week, but the true premier is on Saturday night. So, congratulations to you, because you haven't missed a thing!
And then, just yesterday I pulled the brand spankin' new issue of SouthernMinn SCENE off the press with the wonderful Chastity Brown on the cover, whom I've wanted to have in this magazine for years, only to find that her name was misspelled on the cover, and inside the magazine as well. Instead of "Chastity," it says "Chasity."
And that little gaffe is 100% my fault.
So, y'know, the publisher is going to have a long Come to Jesus Conversation with the editor. Rest assured this kind of stuff will not happen again. (Oh, who am I kidding? This kind of stuff happens, and will again. But it doesn't make for very fun times around the old plush and secret headquarters of SouthernMinn SCENE.)
Oh well. We'll do a much better job of checking our facts from now on. And if anyone wants to be a volunteer proof reader, please drop me a line.
Okay, so, all of these things really are happening this weekend, and they've all been spell checked…
My love for Shakespeare is well documented. His work never ceases to amaze me. For years I've told anyone who would listen
that Hamlet is one of the two pinnacles of Western Literature (the other is "Tangled Up in Blue" by Bob Dylan.) When you consider that one brain wrote Macbeth, Romeo and Juliet, The Taming of the Shrew, Twelfth Night, King Lear, The Tempest, The Merchant of Venice, Othello, Richard III and so many more, including the aforementioned tale of the woebegone Danish prince, it's a little staggering, and should be humbling as hell to any writer that thinks they're any good. The Bard's work is the gold standard.
I've even gone so far as to say that if you don't like Shakespeare then you're just not trying hard enough. Yes, the English language he used is very different from the one we use today, but it's not that hard to look up a few words and lines to make sense of everything. Saying "I don't like Shakespeare" doesn't mean you have discerning taste. It means you're lazy.
When I saw that The Little Theatre of Owatonna is doing Much Ado About Nothing, which will open Friday night, I was reminded of the timelessness of Shakespeare's work. I once saw a production of Much Ado set in the 1960's, with the characters of Benedict, Claudio and Don Pedro returning from a war by repelling from "Huey" helicopters. My favorite production of Hamlet was at the Guthrie in 1989 (I think – it was when I was in college). Each of the
characters was dressed in a different time frame. Ophelia's character was in the classic Shakespearean era. The servants were dressed in colonial attire. Rosencrantz and Guildenstern looked like 19th century schoolboys, Horatio looked as if he had just emerged from the Russian Revolution and Hamlet himself was dressed a lot like Sting, barefoot in an all black suit and t-shirt ensemble (it was the late 80's after all.) Even today, the recent production of King Lear at the Guthrie looks to be set around the time of the first German unification.
I honestly don't know which direction director Jeffery Jackson will take his production of Much Ado, but I can tell you that it will work. Shakespeare's work endures because the points and lessons – even the jokes – apply as well to today as any time in the past. Now I can sit here and tell you to go because Much Ado About Nothing is my favorite of Shakespeare's comedies (which it is), or I can tell you to go because everyone should see his work presented the way it was meant to be – performed on a live stage (not read in a classroom because your teacher is making you read it.) Nope, I want to tell you to go because I think you're depriving yourself of something really wonderful if you don't. The man's been dead for 400 years, and he's still revered by so many. His work is still dissected and discussed. Shakespeare was the man. Give him a shot. You won't be disappointed.
---
I'll be honest; I've never seen The Miracle Worker.
Of course I know about the source material. Helen Keller went deaf and blind as a very, very young girl. It took the considerable skills and patience of a once-blind educator named Annie Sullivan to reach young Helen and open her mind up for the rest of the world. With Sullivan at her side for the rest of her life, Keller went on to become one of the great thinkers, writers and advocates in American history. We all know the story (or at least we should).
I also know that The Miracle Worker will open at the Northfield Arts Guild Theater on Friday night for a two weekend run.
Finally, I know that this is a significant work, adapted by playwright William Gibson from Keller's own autobiography. It received the Tony Award for Best Play in 1960, and was made into an Academy Award winning film in 1962.
For the rest, I had to give Rachel Haider a call. Haider is directing the NAG performance, and would really like you to know about her cast.
"Usually when this play is produced, the women who play Helen and Annie are cast as much older than they really were. Annie Sullivan was twenty-years old when she arrived at the Keller's home. Helen was 6."
Haider found a pair of actresses much closer to the characters' actual ages.
"Kyra Reverman is eight years old, and aside from some work with Prairie Fire Theater (a troupe that works with elementary school age kids to put a play together in one week's time), she doesn't have a lot of stage experience. But she's just wonderful as Helen.
Eighteen year-old Brynne Artley was tapped by Haider to audition for the role of Annie.
"I saw her in a Northfield High School production last year, and she just knocked me out. So I approached her and asked her to try out for this role."
Haider is effusive in her praise of the two young actresses, as she is about the rest of the cast, which includes Allison Eddy and Kevin Dahle as Helen's parents.
She said the play was selected for this season for two very simple reasons: "The script is so good and I always wanted to do it."
Even though I haven't seen the play, I know what kind of an inspiring story this is. In this day and age of back-biting, bitter debates and 140 character news cycles, we could all do well to sit for a while and contemplate the possibilities when one person dedicates herself to an impossible goal with love, persistence and patience. Miracles can happen, indeed.
---
It's an age old and common situation: we take some of the very best things for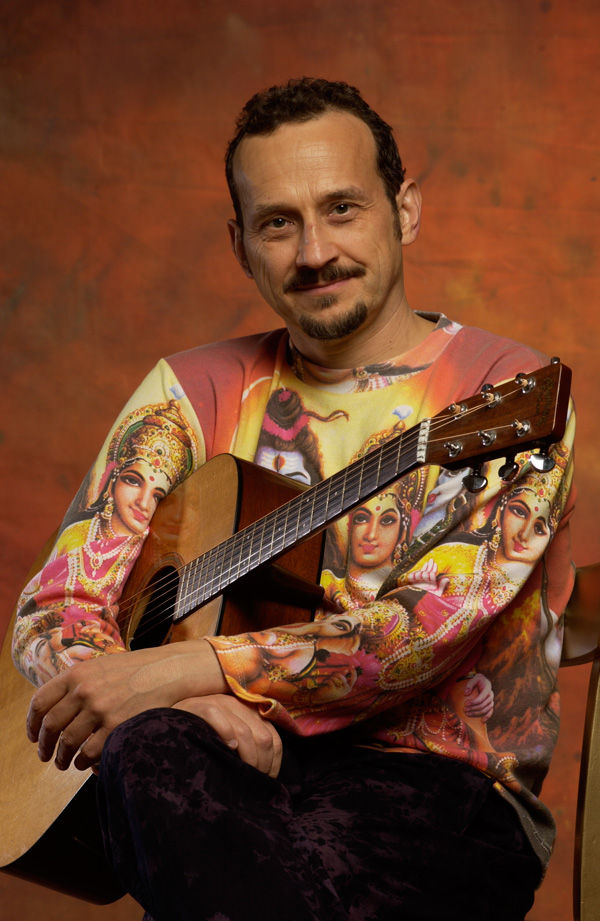 granted because they are close to us. It's easy to take your family for granted; it's pretty easy to take your friends for granted, too. You might live near one of the best pizza places in the country and not realize it. Or there could be an amazing tailor in your town, but you don't really realize how good she is at taking in your pants. As a student of the local music scene, I know we take a number of people for granted. Dean Magraw and Peter Ostroushko, who will play at the Oak Center General store on Saturday night, are two of them.
Peter Ostroushko is a flat out Minnesota Treasure; take your pick of reasons. A great cultural ambassador from the Ukrainian neighborhoods of Northeast Minneapolis, Ostroushko is a magnificent mandolin player and fiddler who has played alongside the likes of Chet Atkins, Emmylou Harris, Taj Mahal and Bob Dylan. Forgive me a personal indulgence, but this is the guy who played mandolin on Dylan's Blood on the Tracks, which, in this writer's humble opinion, is the finest album ever recorded. He's been a witness to history, and his presence enhanced the outcome.
Ostroushko is best known for his work on A Prairie Home Companion and his album Heart of the Heartland, from which filmmaker Ken Burns took much of the music for his Lewis & Clark documentary. Ostroushko, however has also recorded with a number of other musicians, most notably his performing partner on Saturday, guitarist Dean Magraw.
It's funny – for as popular as the guitar is, and has been for decades, you would think Dean Magraw would be a household name. He's one of those guys, in the mold of Leo Kottke, Billy McLaughlin and even Michaels Hedges, who can (or could) create a symphony through his fingers, just by picking up an acoustic guitar. Those of you who can't play the guitar will be awestruck by what Magraw can do. Those of you who can might not touch your guitar for a couple weeks.
I've gone on and on (and on and on and on) about the Oak Center General Store. It's my personal favorite place in Southern Minnesota to go see a show, from the old world feel of the converted-grange-hall performance space to the unique introductions provided by Oak Center owner Steven Schwen. The intimate setting tends to put the performers in a more familiar mood than they would even normally be, making for some memorable shows. Ostroushko and Magraw always bring a lot of positive energy to their performances. This should be a pretty special night.
So that's the weekend. Thanks for reading. We'll try not to screw anything else up for the next few days.
Sheesh.
I'll talk to you guys next week.
Rich
Rich Larson is the publisher and editor of SouthernMinn Scene. He can be contacted at rlarson@southernminnscene.com