·      The Mid West Music Fest is this weekend in Winona
·      The Pines are in Owatonna on Friday night thanks to the Concert Club in Owatonna
·      The Paradise Center for the Arts is hosting I Can't Let Go – A Tribute to Linda Ronstadt on Saturday night
Hey SoMinn.
Yeah, I know, it snowed this morning. It put us all in kind of a crappy mood. But I promise you it won't last. As our friends in the UK are wont to say (ad nauseam), "Keep Calm and Focus on the Weekend." Or something like that.
So, to that end, we dispense with any frivolities or indulgences and bring you the things to look forward to over the next few days…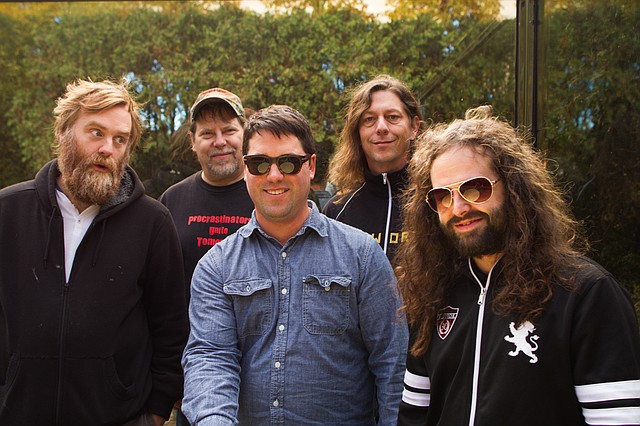 In 2010, it was about Sam Brown just trying to make good on an AmeriCorps service project. Eight years later, it's a multi-level, interstate event that includes some of the biggest and most important names in the Minnesota music scene.
Look what can happen in seven short years.
If you're a true music lover in this state, you know about the Mid West Music Fest. If you're in a band, you want to play MWMF. If you're an entertainment journalist, you block out the entire weekend and head for Winona to write as much as you possibly can. Mid West Music Fest has become a major event in our state, and it's this weekend.
For the three of you who have no idea what I'm talking about, let's back up. Mid West Music Fest is easily the most ambitious annual event on the Minnesota music calendar. Every April more than 100 bands come from all over the Midwest, and the country (and lately all over the world, even) to Winona, where they play in one of at least ten different venues over the course of three days. Past performers include Dessa, Nick David, The Pines, Erik Koskinen, The Ericksons, Chastity Brown, Frankie Lee, Caroline Smith, The Cactus Blossoms and The 4onthefloor. Charlie Parr plays the event every year. This year the Winona event will include Reina del Cid, Frogleg, Jillian Rae, Farewell Milwaukee, Mike Munson The Big Wu and The Honey Dogs, just to name a few. The Current will be broadcasting from Winona all weekend. As always there are seminars and fund-raisers and other events like a reading by local music scribe Jim Walsh from his recent books.
When I first heard about Mid West Music Fest, I thought that, given enough time, it could become a slick, little Minnesota version of
SXSW. It's not there yet (some might say thank goodness), but it's become an important event. If you're a lover of local music this is the biggest weekend of the year in Southern Minnesota. Here at the plush and secret headquarters of SouthernMinn Scene, we're big fans of MWMF. You should be too.
While we're on the subject of Winona, by the way, we would be remiss if we didn't mention that the Bluff Country Studio Art Tour is going on this weekend as well. The amazing art community of extreme Southeast Minnesota is opening up a number a number of their member studios and inviting all of us to come visit, meet the artists and see how their work is done (also, they'd love it if you bought something). Centered around Winona, but including studios in Rushford, Lanesboro and the surrounding area, reaching even across the Wisconsin and Iowa borders, there are dozens of sites to visit. It's a perfect event to compliment all that amazing music. Winona is absolutely the place to be this weekend.
See you down there.
---
Okay so, there are a couple things I want to talk about in this one. First of all, we really have to talk about Mark Woodrich and the Concert Club in Owatonna.
How often have you sat in your chair wishing that things were different from the way they are? Maybe you wished you had a better car, or maybe you wished you had a date this weekend, or maybe you wished there was better food in your kitchen. Right? Okay, now, how long did it take you to realize that you could do something about that? Did it ever occur to you that you have the power and ability to make your life better?
Before I start sounding too much like Tony Robbins, I want to tell you that Mark Woodrich is a lover of music who lives in Owatonna that really wished he had the opportunity to see more music in his town. So, like Bobby Kennedy dreaming of things that aren't and asking "Why not?" Mark set about finding a way to make things better. He found a partner in the Pillsbury College Prep and Camp in Owatonna, and bet that there were a couple hundred more people like him in his town. He stuck his neck out and booked some great music that wouldn't normally be heard in Owatonna. He brought in Sam Llanas (or, to those of us who have loved him since his college radio heyday, "Sammy Bodean") of the Bodeans. He took the advice of some hack writer and booked Dusty Heart to make their Owatonna debut (a show that was snowed out, was re-scheduled, but has now been cancelled.) And on Friday And on April 28, his Concert Club in Owatonna will present The Pines. Woodrich is an entrepreneur, a hero of the American economy, and a man with amazingly good taste in music. His dreams should be supported. His risks should be rewarded.
Secondly, we have to talk about The Pines.
If you haven't heard The Pines, I don't know what the hell you're waiting for. In a Midwest Americana scene stocked to the gills with incredible musicians and songwriters, The Pines (David Huckfelt, Benson Ramsey, Alex Ramsey and a shifting cast of other great musicians) stand among the best. Their brand of music is a quiet and spooky blend of country and folk with elements of ragtime, electronica, and classical dropped in for good measure. Benson and Huckfelt are two of the finest songwriters working today, and my God, they're in the same band. Judging from the instrumentals "Lost Nation" and "Villisca" on the band's most recent album, Above the Prairie, Alex isn't a bad songwriter himself.
I write all the time about going to see local bands before they show up on the Tonight Show or Conan, but frankly it's a mystery to me that this band hasn't been discovered like that already. They have all the tools.
So, here's a chance to see an amazing group of musicians in a comfortable, intimate setting. Don't take this for granted. Support the Concert Club in Owatonna. Go see The Pines.
---
I grew up at a time when Linda Ronstadt was no longer "cool." It sounds so stupid now, but by the time I started really paying attention to music it was the early 80's. Ronstadt had had her Top 40 heyday with hits like "You're No Good," "It's So Easy," and "Just One Look." Music tastes were slowing moving toward that New Wave-lite, synth pop that has become the hallmark of the era. There was no longer any space on the radio for a woman who could sing better than almost any of her contemporaries, because she didn't have enough gel in her hair, electronics in her music or sharply angled makeup on her face.
My parents weren't particularly fond of playing music around the house, and when they did it was either Barry Manilow (mom) or Freddy Fender (dad). I was the oldest child, without any influence from an older sibling or neighbor, so I was sort of left to fend for myself when it came to figuring out what I liked. Linda Ronstadt was "country" as far as I was concerned, so my little 14-year-old brain dismissed her and didn't really go back until I reached adulthood.
I am happy to report, however, that I did come around to Ronstadt and her music, rather quickly, in fact, once I realized that I should maybe take a listen. How could I not, that voice was rich, expressive and powerful. As a singer, she was in a class with very few other names (Harris, Franklin, Ross, Houston, Adele…that might be it).
I refer to her voice in the past tense because, sadly, today her voice is lost to Parkinson's disease. Linda Ronstadt is still very much with us, but she can no longer sing.
That's part of the reason I'm so happy to see that Rochester vocalist and musician Diana Parks has chosen to put together a Linda Ronstadt tribute show, I Can't Let Go, which will roll into the Paradise Center for the Arts in Faribault on Saturday night.
First, I have to say I was a bit skeptical about anyone being able to pull off a Linda Ronstadt review. It takes guts, confidence and a hell of a lot of talent to decide you're going to sing an entire show full of Linda Ronstadt songs. The inevitable, and by design, invited, comparisons are never going to be favorable, right?
Well, Parks has proven me wrong.
Certainly she's no Ronstadt, but no one is. Parks voice, though, has the power, the quality and the precision to present these songs in a beautiful light. She is the rare vocalist who can do these songs justice. Backed by an impeccable 11 piece band that includes Southern Minnesota music scene fixtures like John Wheeler, Carl Stephenson and Tim Hildebrandt, Parks has put a show together that is bound to please the biggest fans of Linda Ronstadt and the most cynical disbelievers (me). I Can't Let Go – A Tribute to Linda Ronstadt is a fantastic show, and well worth the trip to the Paradise on Saturday night. Go check it out.
So that's the weekend. It's busy. There's plenty to do. Don't let a quick little snow shower freak you out. Go have a good time.
I'll talk to you guys next week.
Rich
Rich Larson is the publisher and editor of SouthernMinn Scene. Contact him at rlarson@southernminnscene.com